There is a place for you at Bethel!
Goal: Connecting Young Adults with the mission of the Church.
To promote and engage Young Adults in a way that is deeply, deliberately, and spiritually liberating, empowering, and loving to aid them in applying Christian principles to enrich the Church as emerging leaders as well as engage in outreach to the surrounding communities.

Objective 1: Spiritual Formation. To help Young Adults along the process of forming or growing their spiritual self in a contemporary Church.

Objective 2: Educating and working for Justice. To provide educational and service opportunities for Young Adults to apply the Quadrennial Theme 2016 – 2020, "The African Methodist Episcopal Church: A Social Justice and Liberating Faith" and to reach inwards and outwards to people in the Community.

Objective 3: Intentionally develop leaders for the present and the future. To encourage, help prepare, embrace, and mentor Young Adults to be servant leaders in society and in the Church.
CONTACT DETAILS
youngadults@bethelcolumbia.org
Mrs. Jacquelyn D. Nelson Cunningham
Director, Young Adults Ministry
SPIRITUAL FORMATION: Romans 12:2

NIV
"Do not conform to the pattern of this world, but be transformed by the renewing of your mind. Then you will be able to test and approve what God's will is—his good, pleasing and perfect will."
what would you like to embrace?
Community Outreach and Bethel In-reach Activities (all young adults)

Bethel Hosts a Community Organization

Young Professionals Association (all young adults)
The Bethel Career Center (TBD)
College Sunday (5 young adult planners needed)
Recruitment Night (5 young adult planners needed)
Young Adults Social Events (all young adults)
Conferences & Convocations (1 or more participants)
Young Adults Program (all young adults)
upcoming EVENTS: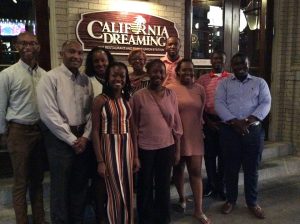 Here is a photo of our initial gathering!
(Young Adults – First Row: Takirah, Cailah, Brianna, Albertus. Second Row: Nino, Nehemiah, Noah.)
OUR desires for you
The Pastor and First Lady Richburg, the Officers, and Families of Bethel AME Church celebrate the College Club members. We look forward to your many endeavors, to see what God has in store for you: Nino, Cailah, Takirah, Brianna, Nehemiah, Albertus, Noah, and the six College Students who were unable to join us tonight at California Dreaming. May God continue to bless you and may you continue to serve and praise God. Continue to mature in every way but know that your Spiritual Formation will serve you in times of challenge. Study your Bibles, learn the Promises of God upon your life, and whisper a prayer as often as you feel the Holy Spirit. Know that you can do all things through Christ. He will strengthen and comfort you when you're homesick, feeling friendless, tired of the food, pushed or overwhelmed by coursework, or just feeling unhappy.
The college club
Stay connected to your church
The College Club consists of Young Adults who are college/university students. Watch for more information as this Club continues to organize and grow!
TIPS!
Remember the advice you gave each other. Here are a few:
1. If you don't attend church while you are away from home, attend Church when you are home (Albertus)
2. Establish room etiquettes, early, with your roommate so there is the guidance for settling disagreements later; and, sometimes people are just different. (Brianna, Nino)
3. Don't let situations with others go unresolved because situations can multiply and become stressful, and seem to show up everywhere. (Nehemiah)
4. Call home–but not too often! (Takirah, Brianna, Albertus, Nino, Nehemiah, Noah, Cailah)
5. You have to wake early and you have to get yourself up but I'll be alright. I'll get used to it. (Noah, Cailah)
6. Shop around for the best prices for textbooks. Discuss your options with your parents and professors. Books are expensive! (Takirah, Brianna, Albertus, Nino, Nehemiah, Cailah)
The College Club – There's a place for you at Bethel!